Copyright © 2017 Stephen Winter. All rights reserved.
4. Sculpting Solar Gravity The Creative Process
---
33. The base support system as viewed from the bottom. This piece is fully welded both sides and the welds on the bottom will not be ground flat. I will add a cross-member perpendicular to the other channel steel this will give the sheet metal additional support. When completed this will be a very solid foundation for the sculpture.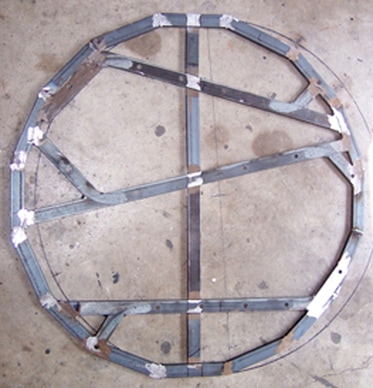 34. The additional channel steel cut to fit perpendicular to the other pieces and ready to weld.
---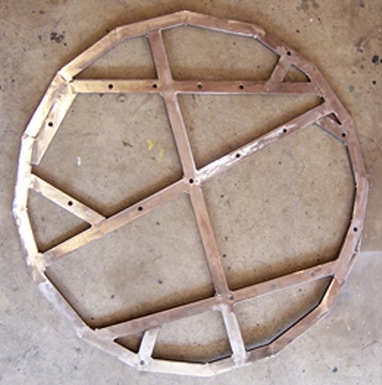 35. All 28 separate pieces thoroughly welded together, ground and sanded flat and smooth. This gives the appearance of having always been a single piece.
---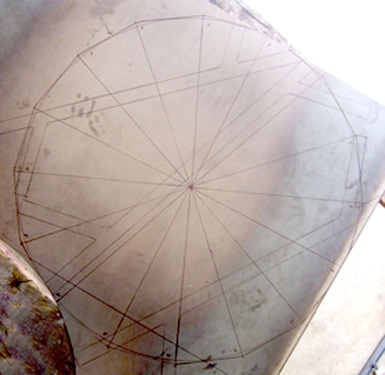 36. Preparing to cut the top of the base sheet metal circle out.
---
---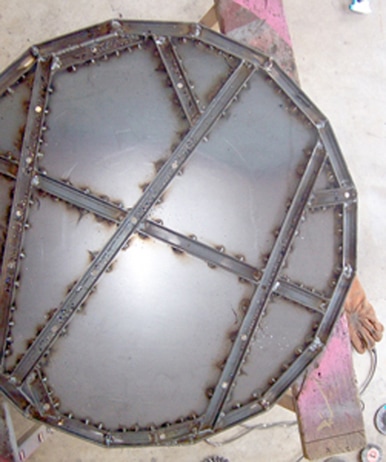 37. The cut out round sheet metal with the support base positioned face down centered and thoroughly welded.
---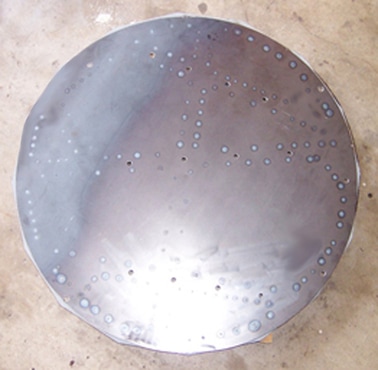 38. The top of the base with the mounting holes drilled. This photo was taken before the surface was sanded and you can see the weld penetration on the sheet metal from the backside as light grey spots.
---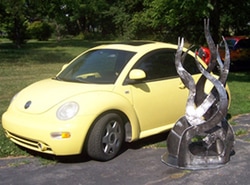 39. Pictured above the first trial fit with the upright shapes bolted down firmly. I placed the sculpture next to my daughters' VW Bug to give you a better sense of scale.
---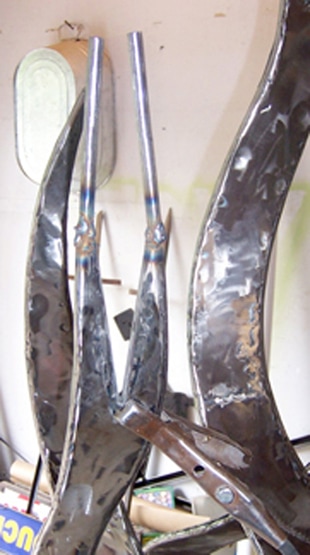 40. The next step is to construct the 3 mounting points that will hold the hand blown glass spheres and the stainless steel atomic symbol shaped rings. In this view I am welding short approx. 5"sections of the 3/8" rod.
---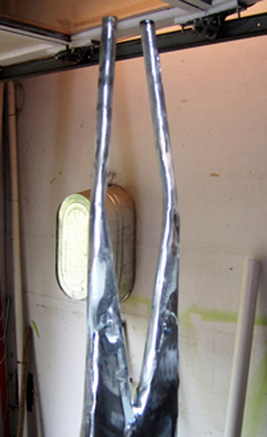 41. Welds ground smooth all the way around. Between the 2 rods I will weld a piece of steel pipe about 3" long that will be the actual mounting point for the blown glass and rings.
---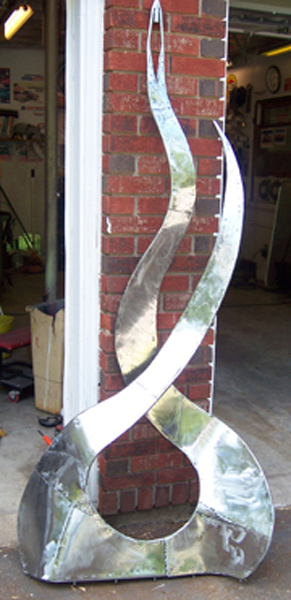 42. The first shape welded and complete.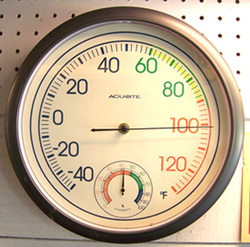 43. During the weeks that I was fabricating this sculpture it hit 100 degrees temperature everyday. The fabrication shop has no air conditioning short of some large fans. This has been one of the hottest summers I can remember. It was seldom below 90 and would reach 100 everyday by noon. This made wearing a welding helmet, welding jacket and leather gloves a very tough go; challenging working conditions to say the least.
---
---
If you have a question or comment please click on the E-mail link below: