Copyright © 2015 Stephen Winter. All rights reserved.
10. Creating the Hand Blown Glass
---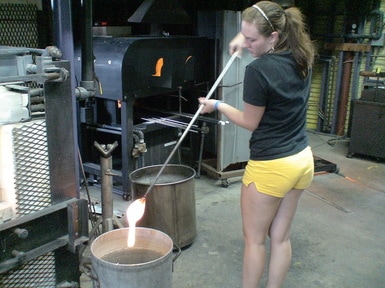 13. Here I am straining excess glass into a bucket of water to get rid of glass I do not want on my piece. By holding it at an upward angle it strains from the tip. I lower it to a horizontal angle to let the glass cut itself (come completely off of the rest of the glass on my pipe.
---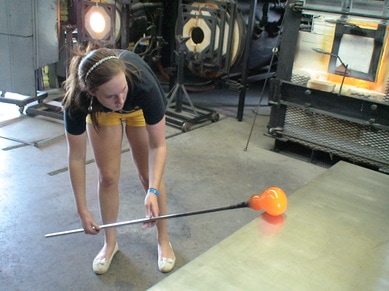 14. The glass must be marved and shaped during blowing to control which part of the glass will blow out. The glass will blow out on the hottest parts.
---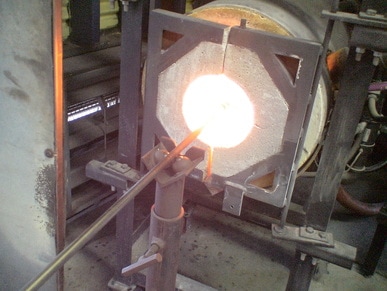 15. Heating it in the glory hole to reheat the glass and prevent cracking. If glass cools to fast it will crack, it is important to keep the glass hot while working.
---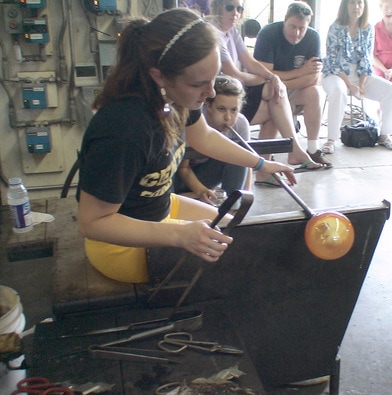 16. Using jacks to cool, I would have also used this tool to put a jack line in my piece. A jack line is at the base of the piece which allows you to knock the piece from the blow pipe.
---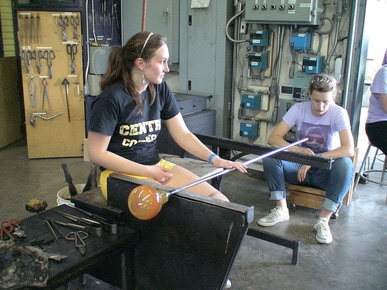 17. Allowing the glass to cool before knocking it off prevents it from getting misshapen in the anneler. The anneler is another oven that is cooler and allows the glass to cool slowly over 24 hours or more. Its holding point is about 800 degrees until it is ready to be brought down slowly.
---
18. Stephen Winter: "This is how the finished blown glass spheres appear installed on my sculpture Solar Gravity a great finishing touch. Great job Jacqueline!"
---
---
To Jump To A Different Page
Just "Click" on the desired page link below.
---