Original Art for Your Home, Office, Business, For Sale.
Solar Gravity
metal and glass sculpture
---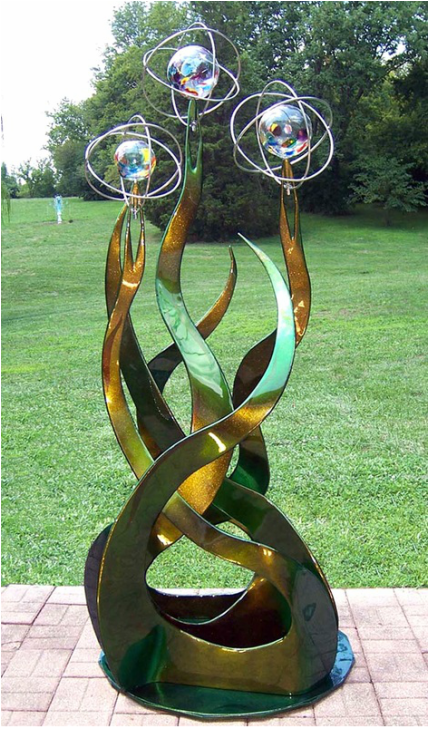 Solar Gravity
Media: Metal, hand blown glass, stainless steel, custom single color, color shifting paint, green to gold. Height 7' 3" on a 34" diameter round base.

This fantastic sculpture takes up about the same amount of room as a standing person. Welded construction total weight approximately 135 lbs.

The concept of this abstract sculpture's design is to imagine the Suns gravity has become so strong it is pulling up on the fabric of the earth and causing a great change, a transformation releasing beautiful energy spheres.

I designed this metal sculpture to incorporate two special effects that I have not used in another sculpture to date. The first items are the 3 blown glass spheres. These spheres were hand made by a recent Centre College graduate who studied glass under well known glass artist Stephen Powell. The artist is my daughter Jacqueline Winter. The blown glass spheres are surrounded by polished stainless steel rod structures that are shaped like atomic symbols.

The second unique addition is the use of high end automotive grade custom effects paint. Although the entire sculpture is painted with one paint; depending on the angle of the viewer or whether there is a curved surface you will see green or gold. The colors change as you move around the sculpture. Actually the colors that you see range from, in the dark areas a teal blue changing into a kelly green which shifts to a bronze and then changing to bright gold. The paint has a sparkle to it. The color shift paint has been clear coated and buffed to a high shine. This type of very expensive custom automotive paint is chemical, scratch and chip resistant. No special care should be needed, just dusted occasionally.

Although the photo shows the sculpture outdoors it was designed to be displayed in a lobby, atrium, waiting room or other public space indoors. This 7' 3" tall sculpture is spectacular in person!
Click this website link to visit
Gallery 104 Arts Association of Oldham County
aaooc.org
---
---
Please Notice:
Sculpting Solar Gravity The Creative Process
Check under the Solar Gravity Metal and Glass Sculpture Tab. There are sub pages listed that you can click on describing the entire process of creating/fabricating this beautiful sculpture from concept to final paint and assembly.
---
Art For Sale Click Here To See What's For Sale
---
To Jump To A Different Page
Just "Click" on the desired page link below.
---