Oz Scarecrow
Posable Jointed Metal Framed Scarecrow
The Scarecrow was designed to look light and nimble!
A Symphonic Night at the Movies: OZ with Orchestra
To many "Wizard of OZ" fans, this was a once-in-a-lifetime experience. The 1939 film starring Judy Garland was shown in its entirety on the big screen at the Tivoli Theatre, with the Chattanooga Symphony Orchestra providing live music.
"This is the first time we've actually accompanied a film while someone in it was singing," said Pops conductor Bob Bernhardt. The timing and precision are a big part of what the orchestra has to do. We played while Judy Garland sang on screen."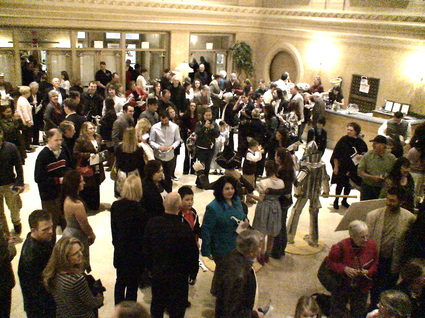 ---
Special guest for the evening was Margaret Pellegrini one of the three surviving Munchkins from the original Movie.
---
The other special guests; my sculptures of the Tin Man and Scarecrow accompanied by Dorothy Gale played by Karley Moon
Art For Sale Click Here To See What's For Sale
To Jump To A Different Page