Original Art for Your Home, Office, Business, Garden For Sale.
Metal Sculpture
---
New! Solar Prominence
This is the artists' sixth metal sculpture in his Solar themed series. 6' 4" (76" on an 11 ¼" round base) the sculpture weighs 47 lbs. Bronze paint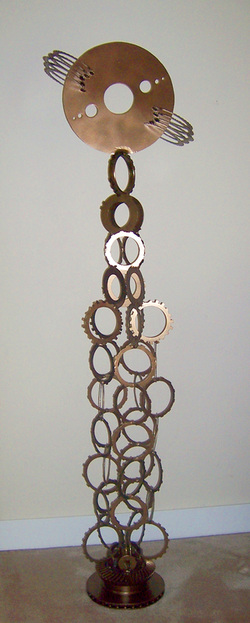 The large 15" metal disc at the top is representative of the sun, the 10 rings, with five on each side depict
Solar Prominences
. Total width at the top is 22 ½". The sculpture is assembled from 60 metal rings welded on end in a balancing appearance. 75 precisely welded pieces in total comprise this unique work of art.
A Solar Prominence is a large, bright, gaseous feature extending outward from the Sun
's surface, often in a loop
shape. Prominences are anchored to the Sun's surface in the photosphere
, and extend outwards into the Sun's corona
. While the corona consists of extremely hot ionized
gases
, known as plasma
, which do not emit much visible
light
, prominences contain much cooler plasma. The prominence plasma is typically a hundred times cooler and denser than the coronal plasma. A prominence forms over timescales of about a day, and prominences may persist in the corona for several weeks or months.
This is a new metal sculpture and is the only metal sculpture shown on this page that is available for sale. All other art on this page has been purchased and shipped.
This is a beautiful sculpture, conversation piece, a focal point that will look great placed in a variety of decor styles. Picture this art in your
entryway, library, living room, office, board room, atrium you name it this piece will add a unique intelligent detail to that space.
$570
plus shipping
---
---
---
---
Copyright © 2017 Stephen Winter. All rights reserved.
Art For Sale Click Here To See What's For Sale
To Jump To A Different Page
Just "Click" on the desired page link below.
---
Click this website link to visit
Gallery 104 Arts Association of Oldham County
aaooc.org